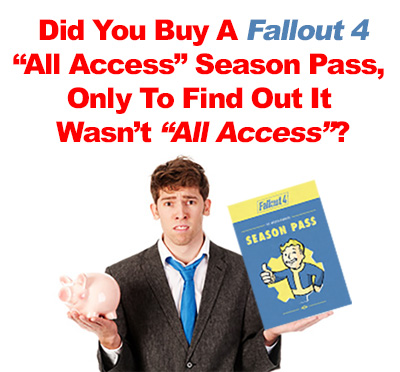 Did You Purchase A Season Pass for Fallout 4? If so, you may have a claim for compensation…
Bethesda sold an "All Access Granted" Season Pass to many people just like you. Bethesda promised unlimited access to undisclosed future updates and benefits. They specifically advertised the following to customers: "get the Fallout 4 season pass and get all Fallout 4 DLC for one S.P.E.C.I.A.L. price." Ultimately, this turned out to be deceptive. Once Bethesda sold these passes, they introduced additional content which was not covered by the supposed "All Access Granted" season passes.
Our lawsuit alleges Bethesda engaged in a deceptive business practice, and that you and customers like you were sold a false bill of goods. We are seeking to ensure that Bethesda treats their customers fairly. The case we have filed is Devine v. Bethesda Softworks LLC et al. (D. Md. Case No. 8:19-cv-02009 – TDC).
If you qualify, you may be entitled to any relief the court may award or which we may obtain through a settlement. Please enter your information in the form to the right, and we will provide you with more information on the status of this ongoing case. Note: Signing up does not create a contractual relationship, nor does it create any obligation on your part.
Contact The X-Law Group at falloutsuit@xlawx.com